Columbia Hotel
Address
411 O'Farrell St (@ Taylor)
Phone
415-673-8007
Email
Website
Contact(s)
Hours
Language(s)
Summary
See article
Orange Hostel San Francisco also known as the Columbia Hotel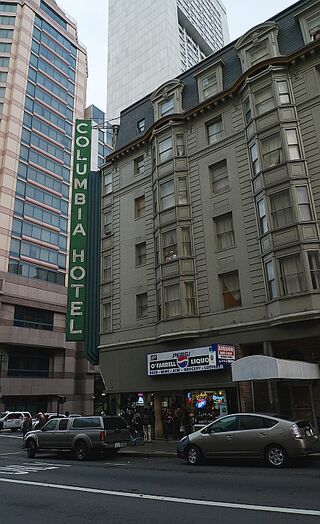 411 O'Farrell St (@ Taylor)
415-673-8007 Manager: Scott J. Michaels
NOTE: No paid rooms available to the public.
Multiple Housing Programs, such as SF Homeless Outreach Team and other Service Agencies have rooms set aside for their clients.  This property is very friendly towards the homeless and those on bay area outreach and aid programs. 
Some of the rooms in this hotel are now sold as the Orange Hostel San Francisco, The Orange hostel san francisco is part of the columbia and some of rooms not used by the homeless are rented to students.
Owner's name: Keith Joon Kim
Great to see Rob doing so well - I hope all goes well for both himself and Marian this smuemr.Speaking of times, his 5k time is just over 6 min/ml pace and is probably good enough to finish at the business end of most local 5k races!!!
2013-2014 HAP Manual Updates
Edit
The 2013-2014 HAP Manual has many changes that are not currently part of SFHomeless.net. The question is whether the wiki or the manual contains the most up to date information. The most efficient way to ensure the wiki has the best information is to add the 2013-2014 HAP Manual text into its respective wiki agency page under a new section "2013-2014 HAP Manual Updates". It will then be up to future wiki users to determine whether and how to update the agency page with the new information.
Columbia Hotel - MM 411 O'Farrell St (at Taylor) 415-292-6400
Columbus Hotel - MM 354 Columbus (between Vallejo & Broadway) 415-399-0309
Rents by week or month
Community content is available under
CC-BY-SA
unless otherwise noted.