Larkin Street Youth Services (LSYS) - Drop-In - Golden Gate
Address
134 Golden Gate

San Francisco, CA 94109

Phone
(415) 673-0911
Email
mail@larkinstreetyouth.org
Website
http://larkinstreetyouth.org/
Contact(s)
Hours
ECC is open from 9 am - 1pm, building as a whole is open from 9am - 6pm, Laundry can only be done before 11:00 pm. Lunch is at 12:00 pm. Larkin is open Monday-Friday, with the exception of holidays.
Language(s)
Summary
See article
Address (Drop-In Center):
134 Golden Gate
San Francisco, CA 94109
Telephone: (415) 673-0911 ext. 5
Toll-free: (800) 669-6196
Email: mail@larkinstreetyouth.org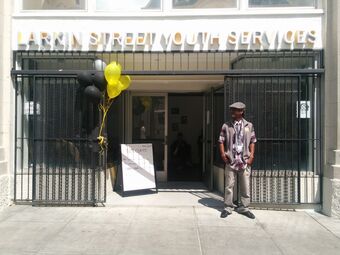 The Drop-In Center offers young people showers, nutritious food, basic medical attention, laundry services and clothing, and a safe haven to give them respite from the street. In addition, the Drop-In Center offers access to education and employment through Hire Up and Larkin Street Academy. Through groups, outings and one-on-one conversations, Drop-In staff support youth with a variety of special needs such as education, family reunification issues, legal matters, and sexual orientation and gender identity issues. It also serves as a portal to further services. Each new visitor to the Drop-In Center receives an individual assessment to determine what other services such as medical care, counseling, or housing would best suit their immediate and long-term needs.
Larkin Street offers at-risk youth the basic necessities as well as an environment of support, stability, and security. Because the needs of younger youth (aged 12-17) differ from those of older youth (aged 18-24), each Larkin Street housing facility offers age-appropriate support to accommodate each stage of their journey, keeping them on track toward rejoining their families or progressing toward self-sufficiency.
Youth can stay in a transitional living program for 2 years, or until the youth turns 25. rent is 30 percent of your income, and will be put into a Larkin Street savings account where you will get the money back at the end of the program.
Their housing programs are as follows: Routz primarily serves folks dealing with substance abuse and mental health challenges, ACAC is for HIV positive youth, Castro Youth Housing is for LGBTQ+ youth, and there is 1020 Haight Street and Geary House are for any homeless youth who want to apply.
At 134 Golden gate, there is a clinic downstairs for youth to access for free (they accept medi-cal) at the main Larkin Building. As well as a music room for youth to use. Programs such as Employment Training, Bridge Academy, and the other Learning Center programs can be accessed downstairs. These programs give youth a stipend, as well as a certificate once youth finish the program.
External Links
[
]