==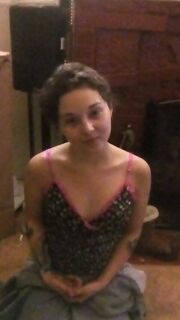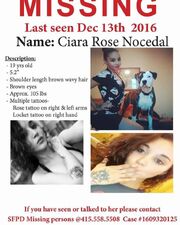 My daugher is also missing. Her name is Ciara Rose Nocedal.
==
She is 20 years old. She is 5' 2" tall, weighs aproximately 100lbs, She has brown hair, and big brown eyes. She was last seen April, 5th, 2017. Her first name is pronounced "Sierra". She has many tattoes, most notably, a heart next to her right eye,  roses and the words, "Forever in my heart on her forearms. I am her father. My name is Oliver Nocedal. Please have her contact me, or call me directly. I have filed a missing persons report with SFPD. The case # is 170413983. I Just want to know that she is ok. I am very worried about her. My phone #:415-410-1095. My email: ONocedal3221@student.egcc.eduEdit
This page is for serious inquiries to find missing persons who may be homeless in San Francisco. We would like there to be police report filed, and evidence that family members are the ones searching. This is not for reconnecting casual acquaintances, or finding people because they owe money, or curious searches. Administrators will review this page regularly and remove anything that does not fit the described purpose. − − SFHomeless.net does not exist to invade the privacy of our homeless population, but helping family connect with people who may be in trouble seems to be a necessary community service. − − POLICY UPDATE AS OF AUGUST 2013: − − Some people have used this page as a place to post a lot of personal information about people where a police report has not been filed. This is beyond the scope of SFHomeless.net administrators to sort through. − − It is the current policy that any postings on this page MUST have a police report filed, and the contact information MUST only point web users to the officers handling that case. − − All entries prior to August 2013 have been erased in the interest of fulfilling this new policy. If there is an active police report for your missing person, you can re-post that information. − − ANY POSTINGS THAT DO NOT CONFORM TO THIS POLICY WILL BE REMOVED. − − My daughter is missing. Her name is Kandi R. Huff but she also goes by Finley Matthews. She's 33years old, 5'6" and about 240lbs. She has beautiful blues eyes and she bleached her hair blonde. She has an injured left leg and walks with a cain. I haven't heard from her since May 22, 2017. Please contact me at tnt.tracy@hotmail.com with any info. Or if you know her just ask her to call home. Thank you −
OLDER ENTRIES ON TOP, NEWER ENTRIES AT THE BOTTOM PLEASE
Edit
− − −i missing my account clash of clan=== Shahidan has been missing from account clash of clcan,12/9/2016. Gmail account : edan83.ms.ms@gmail.com.Please come back my acc at 01136087479.if you have any information. (OK to insert picture). − −
Community content is available under
CC-BY-SA
unless otherwise noted.