Religious Witness with Homeless People
Address
Religious Witness with Homeless People

P.O. Box 420486 San Francisco, CA 94142-0486

Phone
+14159290781
Email
Website
Contact(s)
Hours
Language(s)
Summary
See article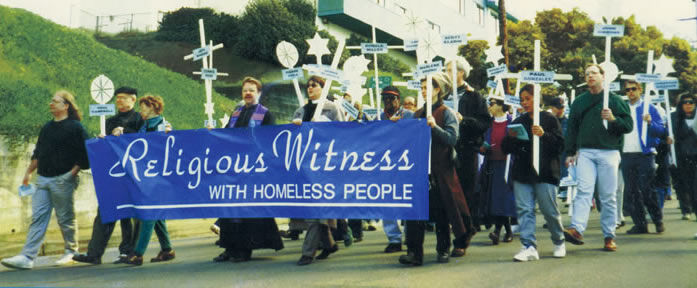 http://www.religiouswitnesshome.org/
Religious Witness with Homeless People
P.O. Box 420486
San Francisco, CA 94142-0486
(415) 929-0781, Fax: (415) 929-0783
relwithome@yahoo.com
All faith traditions, as well as the intrinsic goodness of the human heart, call us to stand with our poor and homeless sisters and brothers in a spirit of genuine compassion and to act with them in the struggle for justice.
In that spirit, Religious Witness with Homeless People unites the diverse leaders and members of the interfaith community of the San Francisco Bay Area with that of homeless people and others of good will in demanding fair treatment and just policies.
Our mission, then, is (1) to act with and on behalf of poor and homeless people in protection of their basic civil and human rights, and to influence the creation of just and compassionate public policies that directly or indirectly touch their daily lives; and (2) to address the basic causes of homelessness at the city, state and national levels, especially in the area of truly affordable housing with supportive services.
We achieve our goals through a diversity of dramatic public events, educational programs, and innovative strategies, including nonviolent civil disobedience. Through such actions we raise the consciousness of the broader community as to the social injustice of homelessness, realizing that this heightened awareness is the prerequisite to direct involvement in bringing about social change.